Why we fancy this
Arnold Schwarzenegger relaxing with a cigar. The Austrian actor and bodybuilder left acting to became the governor of California, returning to Hollywood later in life. This striking photo was made by John Stoddart, a master of celebrity portraiture. This black and white photo is set in a white mat board with a 1½" deep black frame.
Product Details
Dimensions:
overall
h 28.00"
w 32.00"
d 1.50"
Whats Included:
certificate of authenticity
Shipping & Returns
Shipping:
Free Shipping Nationwide
Return Policy:
Returns accepted within 14 days of delivery.
Shipping Restrictions:
Due to shipping restrictions, we cannot ship this item outside contiguous United States.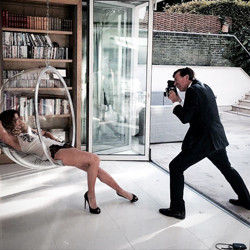 About John Stoddart
legend photographer proclaimed "The Photographer of the Decade" by Guardian Newspaper and Life magazine called his images as "The Greatest Photographs of The 80's" including his invitation by George Lucas to photograph the first Star Wars Return of the Jedi characters (Darth Vader, Han Solo, Chewbacca and others), at Lucas Studios, London. Griffin's images have been displayed in the National Portrait Gallery, London and others worldwide.