Why we fancy this
James Dean takes a moment out on the set of Giant. The final film of the legendary actor sees him play a Texan rancher turned oil man. The photographer of this candid image is Frank Worth, a confidant of many celebrities of the 50's and 60's. His collection of portraits was only recently published. This collectible black and white print is set in a white mat board with a 1½" deep black frame.
Product Details
Dimensions:
overall
h 28.00"
w 32.00"
d 1.50"
Whats Included:
certificate of authenticity
Shipping & Returns
Shipping:
Free Shipping Nationwide
Return Policy:
Returns accepted within 14 days of delivery.
Shipping Restrictions:
Due to shipping restrictions, we cannot ship this item outside contiguous United States.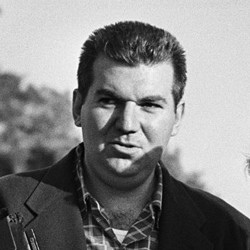 About Frank Worth
(1923-2000) never famous in life achieved legend status after his death in 2000 of his never published photographs of his celebrity icon friends such as Frank Sinatra, "The Rat Pack", Marilyn Monroe, Elizabeth Taylor, Princess Grace, Jane Mansfield and many more, were discovered. Christy's, London called the collection, "The Greatest Collection in the last 50 years of Hollywood's Golden Years" People Magazine devoted a cover story to it.