Scandinavian Fusion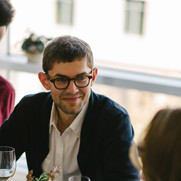 Curated by Nathaniel
Contemporary Danish Furniture
Perennially popular, Scandinavian furniture is the perfect bedrock style to shape your interior. It is also a malleable design element when creating decor concepts. This collection gathers together the iconic pieces that have reshaped our conception of furniture, as well as contemporary spins on classic designs. Browse designs with the charisma of instant recognition, as well as pieces that create sensible off-beat pairings that will open up the creative floodgates.
Accent Color for Interiors

Our collection of chic Scandinavian furniture can easily by matched by color. The resurgence in popularity of accent walls and other schemes to incorporate the design rule of three is rooted in selecting pieces that fit your palette. Start here with our collection of Scandinavian Fusion furniture.