Small Studio Dining Room Furniture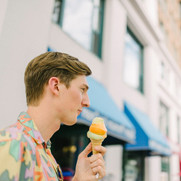 Curated by Jeremy
Dining Chairs and Dining Tables for Small Spaces
Studio living is all about compromises; it is perfect for the opportunist at heart and the rewards are incredible. The inherent constriction of designing for a small space increases your opportunity for ingenuity. The results are less clutter, modular spaces, and a focused lifestyle. Browse our selection of dining chairs and dining tables perfect for your studio space.
Creative Solutions for Intimate Spaces

Dig into this collection and discover ways to problem solve your space. Small tables and small spaces work well in studio apartments. But also consider benches or stools that can double as storage or tables when not in use. Wall-mounted tables and folding furniture will make your space modular and easy to navigate when you aren't entertaining friends and guests.