Eclectic Industrial Furniture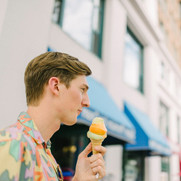 Curated by Jeremy
Industrial furniture and lighting from modern sources and more
Industrial design works well for urban spaces. For this collection, we've selected an eclectic range of furniture from among the latest in contemporary decor. Factory pieces inspire some of our favorites, including reclaimed iron and metal pieces, as well as large, exposed light fixtures. But industrial isn't restricted to one mode. We've also included Bauhaus and mid-modern pieces that were early experiments in taking the logic of mass-manufacturing and applying it to accessible furnishings.
These forward-thinking, radical ideas form the back bone of the connoisseur of 20th century furniture design. Eclectic perhaps, but never eccentric -- these concepts are unified by their functionality, economy, and durability, not to mention their sleek surface appeal.
With this collection, it is easy to create a mix of industrial and vintage for your interior space. Turn traditional into transitional with modern accents. Or go the other way, start with classics of modern industrial furniture like a set of Tolix chairs, and diversify your decor by adding antiques.