Spring into Savings on Furniture Deals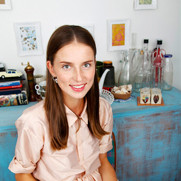 Curated by Stephanie
Save on Modern Furniture
It's that time of year again! Remove any unwelcome clutter, usher in the new, and welcome spring, our favorite season of the year. Start with this collection of stylish furniture; it is easy to maintain and will add a breezy and sunny energy to your environment. Aim to activate your spirit while providing the perfect place to entertain guests. Our large rugs will bring together any room. Light finishes and plenty of straight lines extend the relaxed vibe.
Uncluttered and Airy Spring Design

Browse our spring collection and find refreshingly simple decor that will transform your space. Modern classics reimagined as cottage worthy furnishings pair well with industrial items with unique, rustic finishes. Clean, neutral colors make these items easy to match with your current furnishings.
Change the tenor of your interior with this collection and enjoy spectacular savings. This collection of modern and contemporary furniture features plenty of easy-to-clean lighting fixtures, area rugs, and light woods like teak.